Wound Care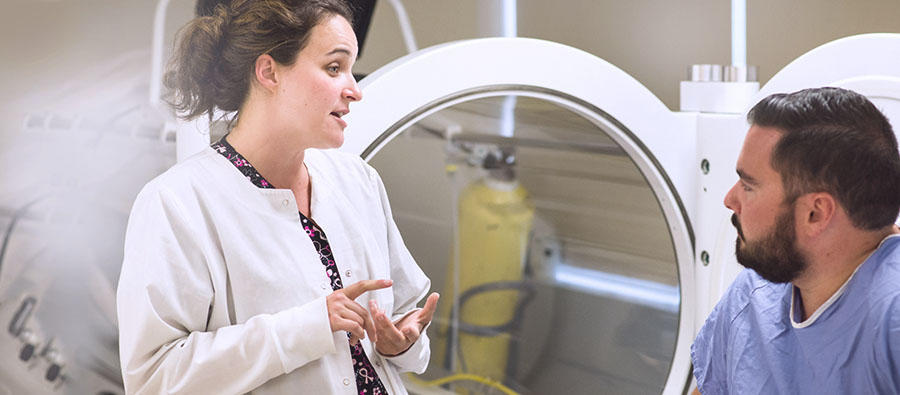 We are here to help you find what you need.
For most people, wound healing is a natural, uneventful process. For some, however, it becomes a complex medical problem requiring specialized medical treatment. If you suffer with a hard-to-heal wound, we may be able to help.
The Hyperbaric and Wound Center at Davis Hospital represents a comprehensive resource for the treatment of patients with chronic, non-healing, or difficult wounds.  The treatment plan may include advanced wound treatments, negative pressure wound therapy, specialized compression wraps, hyperbaric oxygen therapy, bioengineered human tissue grafting, and antibiotic treatments. The Center is staffed by experienced physicians, and other healthcare professionals, who are trained in wound management and hyperbaric medicine. Our team works closely with your primary care physician to provide comprehensive care, and we communicate with all members of your treatment team in order to give you optimal healing outcomes.
Hyberaric Oxygen Therapy
Hyperbaric oxygen therapy is a specialized treatment that allows you to breathe pure oxygen inside a pressurized chamber. High concentrations of oxygen, ranging from 10 to 20 times normal, are delivered to the bloodstream. This pure oxygen can penetrate areas that oxygen-carrying red blood cells cannot reach. As a result, it helps revitalize tissues that receive poor blood flow and stimulates the growth of new blood vessels. Increased oxygen also enables more infection-fighting white blood cells to reach affected areas. Most patients require treatment over the course of several weeks to effectively treat wounds.
The HBOT Treatment Experience
Hyperbaric therapy is painless and most patients watch movies or sleep during their treatments. A Certified Hyperbaric Technologist (CHT) will monitor your treatment at all times and a physician will always be present. During treatment, the technologist will slowly increase the air pressure. As the pressure increases initially andl decreases at the end of the treatment, you may notice a sensation similar to changing altitude in an airplane. Your technologist will monitor you at all times and will help you equalize the pressure in your ears.
CelluTome™
Davis Hospital and Medical Center's Hyperbaric and Wound Center is the first center in the western United States to provide the CelluTome™ Epidermal Harvesting System for skin grafting. Unlike traditional split-thickness skin grafting that requires the use of a much larger area of skin from the donor site, CelluTome™ technology offers a precise, simplified, and minimally invasive option for wound closure.
The CelluTome™ system uses a template lined with small holes. The tool warms up the skin and creates suction, adhering to a patient's inner thigh. The heat and suction causes small blisters to form at the junction of the epidermis and dermis, which is then lifted from the donor site without injuring blood vessels and nerves. The harvested skin tissue is placed on the wound and, as soon as the new skin roots to the damaged skin, the healing process begins. In traditional skin grafting, the wound is treated in an operating room and healing on the harvest sites is often painful. With CelluTome™, the entire procedure is performed without anesthesia in a medical clinic. The harvesting site generally heals within one to two weeks and the transplant site closes 40 – 60 percent faster than untreated wounds.
Conditions
Venous Leg Ulcers
Pressure Ulcers
Diabetic Foot and Leg Ulcers
Ulcers from Peripheral Arterial Disease (Vascular Ulcers)
Surgical Wounds
Abscess and Cellulitis
Mild Burns
Edema/Leg Swelling
Ostomy and Ileostomy Management
Wounds associated with cancer or radiation treatment
Wounds from autoimmune disorders such as lupus or rheumatoid arthritis
Other hard to heal wounds
Treatments
Hyperbaric therapy
Sharp debridement
Wound assessment and management with serial digital photo records
Bioengineered human tissue grafting
Intravenous antibiotic therapy
Wound prevention counseling
Ostomy management and care
Non-invasive vascular evaluation and surgical site tissue oxygen mapping
Management of edema/swelling
Total contact casting for healing of diabetic foot ulcers
Negative pressure wound therapy
Wound biopsy
Abscess and hematoma drainage