Therapy Services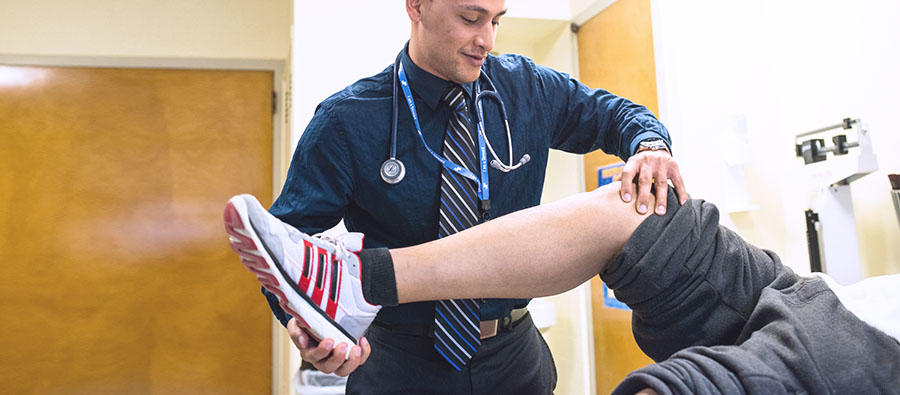 We are here to help you find what you need.
Since 1977, Wasatch Peak Physical Therapy, located on the campus of Davis Hospital and Medical Center, has been raising the bar for therapy services in Layton, Utah.
Occupational, Physical and Speech Therapy Available at Davis Hospital
 
Today, with an advanced 8,000 sq. ft. facility (which includes a 24' x 42' pool), our team is able to offer even more specialized care. A growing staff of 25 specially trained therapists at Wasatch Peak covers a diverse range of therapy services, including physical, occupational, speech, and more.
Your Therapy Team
When most people think of rehabilitation following a sports-related injury, they only think of physical therapists and athletic trainers. We follow a more comprehensive approach. Depending on your injury and your needs, we can draw upon the expertise of radiologists, orthopedic surgeons, and other healthcare professionals. We are committed not only to treating your injuries, but also to educating you about how to continue successful rehabilitation and healthy exercise after leaving our care. Our team includes:
14 Physical Therapists
4 Occupational Therapists
5 Speech Therapists
2 Athletic Trainers
Physical Therapy
If you're suffering from any kind of physical discomfort related to the muscles, joints, tendons, ligaments, or nerves, you may benefit from outpatient physical therapy. Patients who may benefit from our services include those who:
Sustained an acute injury, such as a fall
Sustained an athletic injury
Have a congenital defect
Had a surgical procedure
Physical therapy is a great way to regain mobility, build strength, and protect against future injury. If you're not sure if you need physical therapy, ask your primary care provider what a physical therapist could do for you.
Aquatics Program
The Layton location at Wasatch Peak Medical Plaza features a 24' x 42' pool for physical rehabilitation. Aquatic therapy is a great option that allows patients to reduce stress on the joint, while also working on strength and range of motion. Benefits of aquatic therapy include:
Decreased stress on weight-bearing joints during exercise
Increased strength and flexibility
Improved balance
Increased circulation
Promotes deep breathing
Promotes healing
Encourages relaxation
Promotes cardiovascular and muscular endurance
Our aquatics facility allows specialists to offer unique and effective physical therapy services in Layton, UT.
Conditions
Sports Injuries
Auto Accidents
Work Injuries
Back / Neck Injuries
Women's Health
Work Injuries
Treatments
Orthopedics & Sports Medicine
Physical Therapy
Joint Replacement Rehab
Shoulder / Elbow Rehab
Hip / Knee Rehab
Occupational Therapy / Home Health Rehab
Foot / Ankle Rehab
Arthritis Rehab
Pelvic Floor Therapy
Cardiac Rehabilitation (with telemetry monitored program)
Hand Therapy
Aquatic Therapy
Prenatal Aquatic Classes
Speech Therapy
Stroke / Neurological Rehab
Post-Surgical Rehab
Pulmonary Rehabilitation