Surgical Services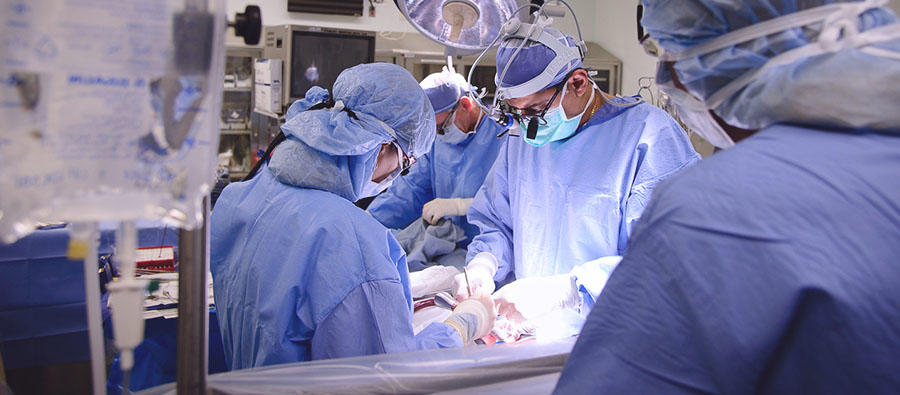 We are here to help you find what you need.
Davis Surgical Center in Layton, Utah, uses the latest technology to provide quality outpatient surgery and care, including: orthopedics, ophthalmology, ENT, plastic surgery, gynecology, podiatry, and general surgery.
Advanced Technology & Preparing for Surgery
Our facility features fully equipped operating rooms with advanced technology and instruments. Our comfortable recovery rooms assure your privacy and provide an opportunity for your family to join you shortly after surgery.
Our facility is licensed by the State of Utah and certified by the Center for Medicare Services (CMS).
What Is A daVinci Surgical Systems?
Though it is often called a "robot," da Vinci cannot act on its own. Instead, the surgery is performed entirely by your doctor. Together, da Vinci technology allows your doctor to perform complex procedures through just a few tiny openings. As a result, you may be able to get back to life faster without the usual recovery following major surgery. The da Vinci System has been used successfully worldwide in hundreds of thousands of procedures to date. We offer:
da Vinci Hysterectomy
da Vinci Prostatectomy
da Vinci Cholecystectomy (Gallbladder)
For the patient, benefits may include:
Significantly less pain
Less blood loss
Less scarring
Shorter recovery time
A faster return to normal daily activities
And in many cases, better clinical outcomes
 
Is da Vinci Right for You?
There are few medical conditions that preclude patients from being da Vinci candidates. These conditions include pregnancy, abnormal blood clotting, and morbid obesity. da Vinci surgery is preferred by many surgeons and patients over traditional open and laparoscopic procedures because of the faster recovery time, smaller incisions, and decreased pain and bleeding. For more information about da Vinci Surgical System – and to learn if it's right for you and your necessary procedure – call Davis Hospital and Medical Center at 1-866-431-9355.
How Should I Prepare For My Surgery? 
Prior to your surgery date, a member of our Davis Surgical Center staff will call to confirm your surgery time and will discuss important information with you.  They will ask questions regarding your current condition, medical history, allergies and medications you are taking.  Please ask questions and be sure to let the staff know if you have any special needs or requests.  If your child is having surgery, ask about a tour for children.
DO NOT EAT OR DRINK ANYTHING after midnight before your surgery unless your doctor tells you otherwise. This includes food, liquids, gum, candy, chewing tobacco, water, and ice. Food in the stomach can cause serious complications with anesthesia and your surgery could be cancelled if you do not follow this instruction.
If you take medication for any condition, ask your doctor whether or not to take it the day of surgery.
Do not smoke 12 hours before or after surgery.
Bathe or shower and wash your hair the morning of surgery to minimize the chance of infection.
Please do not apply makeup or lotions.
Please notify your doctor if there is any possibility that you are pregnant.
Leave valuables at home, including watches, rings, and jewelry.
Notify your surgeon of any change in your health, such as a cold, fever or sore throat.
For your safety, please arrange for an adult to drive you home after surgery.
How Should I Prepare The Day of My Surgery? 
Arrive promptly at the scheduled time. This will allow adequate time for all necessary admission procedures.
Limit the number of people who accompany you to one person. However, we do welcome both parents of a pediatric patient.
Please bring your insurance and photo identification cards. If special financial arrangements are necessary, please call the Surgery Center prior to admission.
Be sure to bring any paperwork your doctor gave you, such as test results or your medical history, and a list of medications you are taking, including over-the-counter and herbal remedies.
Wear clean, comfortable, loose fitting clothing.
Upon arrival, you will change into a gown and slippers which we provide. You may be asked to remove contact lenses, piercings, dentures, and any prosthesis.
 
In the Recovery Area
After surgery, you will be moved to the Recovery Area and will be closely monitored until ready to go home.
When you are fully awake, your family will be able to join you. Although the times may vary, most patients are discharged 1 to 3 hours after surgery.
It is perfectly normal to feel discomfort in the area of your surgery. You may also experience some drowsiness or dizziness, depending on the type of anesthesia you received.
What Should I Do Post Surgery?
Your surgeon will provide specific instructions for care while recovering at home. In the event of any difficulty, please call your surgeon or your surgeon's after-hour coverage.
For the first 24 hours following surgery, it is recommended to avoid strenuous activities, alcoholic beverages, driving, or making critical decisions.
A nurse from Davis Surgical Center will call you within a day or two to evaluate your at home recovery.
You may receive a call from JL Morgan and Associates asking you to complete a questionnaire about your care.  Please take a few moments to respond, as your comments are valuable to us.
 
Your Responsibilities as a Patient
To provide a complete medical history, present complaints, and other matters relating to your health.
To ask questions if directions, procedures or other information is not understood.
To follow the plan of treatment and instructions recommended by your physician and other professionals responsible for your care.
To accept consequences of your actions if you fail to follow the plan of treatment.
To show respect and consideration for other patients, families and visitors of Davis Surgical Center.
To be legally competent or bring a legally competent representative with you on your day of surgery.
Conditions
Orthopedics
Ophthalmology
ENT
Cosmetic
Gynecology
Podiatry
Treatments
Minimally Invasive Treatments ( tiny incisions and instruments guided by sophisticated, miniature cameras - results in faster recovery and less scarring)
Da Vinci Surgical Services (perform complex procedures through just a few tiny openings)
Outpatient Surgery