Pain Management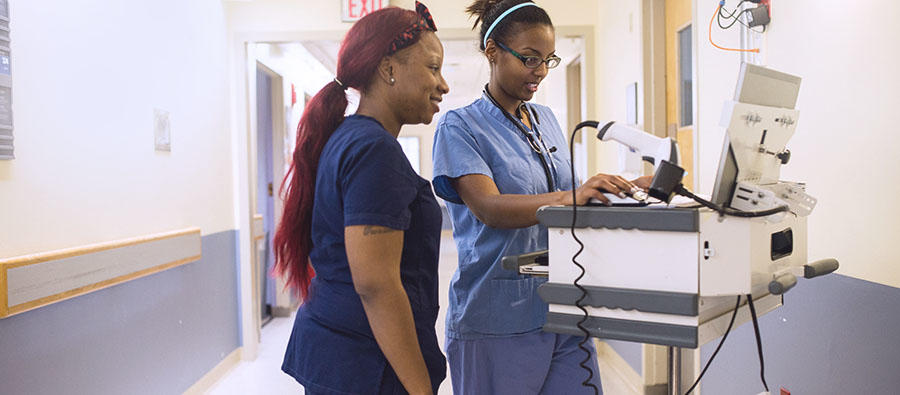 We are here to help you find what you need.
According to the National Institutes of Health, 1 in 4 Americans has suffered from pain lasting longer than 24 hours and chronic pain is the most common cause of long-term disability.
Only a physician can properly evaluate your symptoms and diagnose your pain. Many forms of chronic and acute pain present complicated symptoms. Despite the many tools and high-quality information available online, "self-diagnosis" of pain symptoms is strongly discouraged. Not only can this approach delay patients from getting appropriate treatment, but "self-diagnosis" does, in some cases, lead to harmful "self-treatment." 
Spinal Cord Stimulation
There are several treatment options for back and neck pain, ranging from physical therapy to surgery. However, in cases where surgery or other treatments don't successfully relieve the pain, spinal cord stimulation may be a good option.
What is spinal cord stimulation?
This treatment option delivers mild electrical pulses to nerves in the spinal column, blocking or interfering with nerve activity to minimize the sensation of pain that reaches the brain. A small spinal cord stimulation device (similar to a pacemaker) is implanted near the spine that generates an electrical current.
After the device is implanted, a doctor will determine the pulse strength and the patient is shown how to operate the device at home.
Who is a good candidate?
Patients who do not respond to conservative therapies
Patients whose pain does not go away with surgery
Patients who have chronic pain syndromes
In order to determine if you are a good candidate, it's likely you will be evaluated by a neurosurgeon and a pain specialist
Potential benefits of spinal cord stimulation
Pain signal replaced with a mild tingling sensation
Reduces the amount of pain medication needed
Chronic pain can become much more manageable
Increase ability to enjoy day-to-day activities
Overall positive effect on mental health, stress and quality of life
Conditions
Back Pain
Neck Pain
Cancer Pain
Cervical Radiculopathy (Arm Pain)
Chronic Fatigue Syndrome
Chronic Pain Syndrome
Complex Regional Pain Syndrome (CPRS / RSD)
Diabetic Neuropathy
Disc Pain (Back And Leg Pain)
Facet Joint Pain
Fibromyalgia
Headache
Herniated Disc / Slipped Disc
Hip Pain
Knee Pain
Lumbar (Low Back Pain)
Lumbar Radiculopathy / Sciatica (Leg Pain)
Muscle Pain
Myofascial Pain Syndrome
Neurogenic Claudication (Leg Pain with Walking)
Neuropathic (Nerve) Pain
Occipital Neuralgia
Pelvic Pain Syndrome
Peripheral Neuropathy
Phantom Limb Pain
Postherpetic Neuralgia / Pain After Shingles
Post-laminectomy Pain ("Failed Back Syndrome")
Shoulder Pain
Spinal Stenosis-Related Pain
Spondylolysis
Work Injuries
Other pain conditions
Treatments
Botox Injections
Brachial Plexus Blocks
Carpal Tunnel Injections
Celiac Plexus Blocks/Splanchnic Nerve Blocks
Epidural Steroid Blocks (Lumbar, Thoracic, Cervical, or Caudal)*
Facet Joint Injections
Intercostal Nerve Blocks
Intravenous Regional Sympathetic Block
Lumbar Sympathetic Blocks
Medial Branch Blocks for Facet Joint Injections
Peripheral Nerve Blocks
Platelet Rich Plasma (PRP) Injections
Prolotherapy
Radiofrequency Neurotomy / Rhizotomy
Sacroiliac (SI) Joint Injections
Selective Nerve Root Blocks
Stellate Ganglion Blocks
Tendon Sheath Injections
Trigger Point Injections
Ultrasound-Guided Bursa Injections
Vertebroplasty
(Lumbar) Discography
Epidural Blood Patch
Implanted Intrathecal Pumps
Epidural Infusion Catheters
Neurolytic Blocks
Spinal Cord Stimulators (SCS)
Resources
Do You Have Persistent Pain?

Take this quick quiz to determine if pain management services may be an option for you. If you answer "yes" to one or more of these questions, contact your insurance company to determine if you need a referral from your primary care physician for pain management services.