Maternity & Women's Center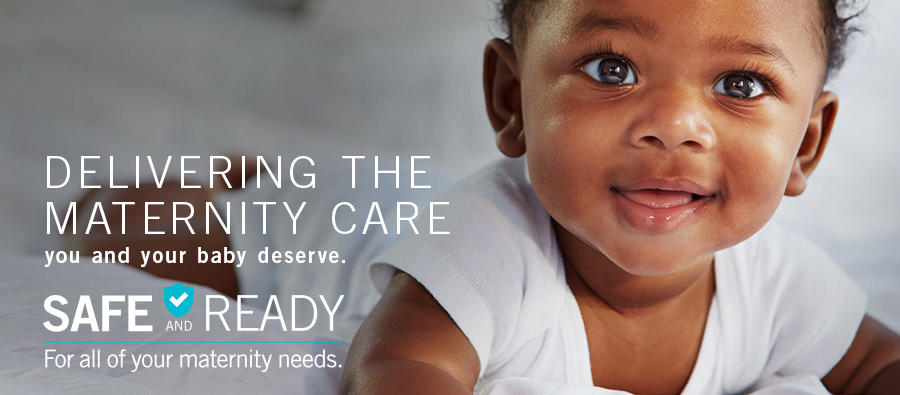 If you're expecting soon, you can expect world-class care and treatment from our safe and ready maternity program. We're here for you and your newborn through every step of the delivery process.
Maternity Services
Labor, Delivery and Recovery
For the birth of your baby, we've prepared a private and spacious Labor, Delivery and Recovery (LDR) suite. With an adjustable bed, jetted tubs, and reclining sleeper for your coach, our suites are designed to increase your comfort during labor. Each suite is also fully equipped to help ensure a safe delivery and outstanding medical care for the first hours of your baby's life.
If you require a Cesarean section, we have surgical suites dedicated to women's services, so you will be able to deliver your baby in an operating room located right in our maternity unit.
After your baby is born and you've had time to recover, you will move to another private room in our Women's Center. Nurses with specialized training will care for you and your baby.
Natural Child Birth
Our staff supports individualized birthing plans, including natural childbirth. We believe you should choose what's right for you and your baby.
Mother Baby Couplet Care
We encourage mother baby couplet care, where mothers keep their babies in their rooms as much as they would like. This gives families time to bond and helps new parents learn to care for their infant with professional assistance.
Breastfeeding
We offer lactation assistance for mothers who choose to breastfeed.  All our nurses are trained in lactation and can help you learn the best techniques for feeding your baby and how to be sure your baby is getting enough milk. 
Candlelight Meal
To help celebrate this very special time, we provide a candlelight meal for you and your partner.
On-site Spa
During your stay, pamper yourself with a complimentary treatment from our in-house spa, including manicures, pedicures, facials and other salon services.
Education for New Moms
Davis Hospital offers education to help you get ready for the arrival of your new baby, including classes for childbirth preparation, breastfeeding, infant first aid, CPR and more.
Infant Security
Our comprehensive infant security plan is designed to protect our tiniest patients and to help ensure they stay safe in the hospital. In addition to other security measures, we use a high-tech electronic surveillance system to keep track of each baby. Following the delivery of your baby, we place a small monitoring band around your baby's ankle, where it remains until you take the baby home. The band, which is completely safe, transmits an electronic signal to a nursing station and alerts nurses if a baby ever moves too close to a maternity unit exit. This band also provides reliable location-tracking and monitoring throughout the entire hospital. With this secure system in place, you can have peace of mind that your baby is safe at Davis Hospital and Medical Center.
Nursery & NICU
Well Baby Nursery
Our Well Baby Nursery is available for mothers who want to rest without their baby in the room or who are not able to care for their newborns. This separate infant nursery allows time for new mom to quietly rest and recover as long as she wants to prepare for going home.
Level III NICU
Our Level III NICU (neonatal intensive care unit) provides a higher level of care for babies who need special medical treatment. The highly trained staff members in our 16-bed NICU are committed to an exceptional standard of care for pre-term infants and babies with special needs. As a Level III NICU, our staff and facilities are equipped to provide:
Comprehensive care for low birth-weight infants

Comprehensive care for pre-term/under-weight infants with critical illness

Sustained life support

Advanced respiratory support

Prompt access to subspecialists

Advanced imaging (including CT scans, MRIs, and echocardiography)

Certified ophthalmologist for ROP exams
Both nurseries are staffed with experienced nurses who have advanced training in the care of newborns.
Women's Care
Breast Care Center
Our comprehensive breast care services include 3D mammographyTM, cancer treatment, MRI, osteoporosis screening, high-risk assessments and counseling, genetic testing, cancer patient navigator and minimally invasive biopsy. Visit our Breast Care Centers
located at both our Layton and Weber campuses.
Cancer Patient Support
We have a team of specialists trained to help you through your diagnosis, treatment and continuing care. Our patient navigators provide individualized assistance to help overcome healthcare system obstacles and facilitate timely, quality healthcare through all phases of the cancer experience.
Women's Surgery
Davis Hospital has an experienced team of surgeons and an entire unit dedicated to women's services.
Physician Assisted Robotic Surgery
da Vinci® surgery allows your surgeon to perform delicate surgeries with a single incision, providing for less blood loss, reduced pain pain, quicker recovery time and minimal scarring. 
Resources
Having a Baby Soon?

If you're pregnant and expecting a baby soon check our checklist. This checklist will guide you through every trimester, post-birth and breastfeeding.