COVID-19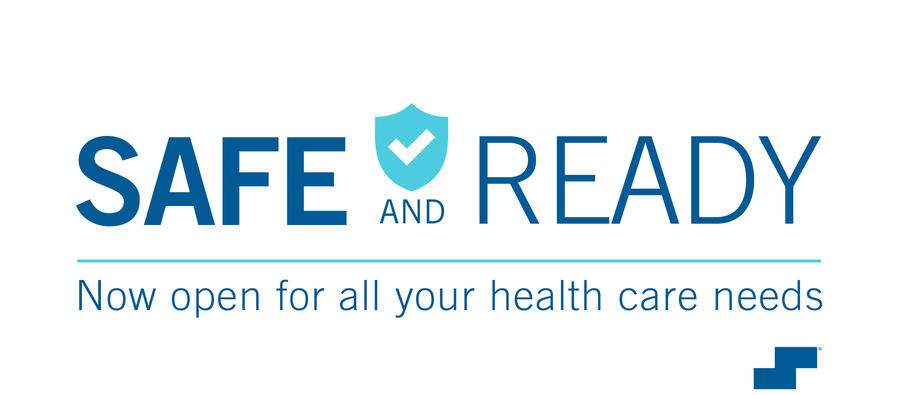 As COVID-19 continues to spread across the United States, Davis Hospital & Medical Center is fully prepared to care for our patients and our community. We are here, as always, to serve all patients. Our commitment to providing care for the ongoing health and well-being of our community is vital, particularly in times like these.
Drive Through COVID-19 Testing Tent
Davis Hospital and Medical Center's drive through testing tent is located on the main hospital campus at 1600 W Antelope Drive in Layton. The tent is on the northeast side of the campus behind the hospital. 
Testing Hours: Monday - Friday: 9:00 a.m. - 5:00 p.m.
The Testing tent is closed on Saturday and Sunday. 
Patients will be asked to stay in their cars while they complete a questionnaire, registration form, and while they are screened and tested. Results will be sent to the patient's ordering physician. Please note, an order from your provider is preferred. If there is not a physician's order, testing will be provided by a Steward designated physician if the patient meets testing requirements in accordance with the Utah Department of Health guidelines. 
Hospital Reopening Announcements
Our clinics are open, elective procedures are ready to be scheduled, and our emergency rooms continue to be a safe place to treat ALL emergencies. From serious conditions to aches and pains, your health care needs didn't stop. We know this. And now it's time to get you and your family the advanced medical care you need.
Davis Hospital & Medical Center is taking additional, necessary preparations to ensure patients can receive compassionate care in a safe, carefully managed environment – with confidence and without fear.
Our Safe and Ready program consists of a rigorous five-point standard ensuring patient safety, confidence and convenience:
Expanded hours will allow previously cancelled procedures to be scheduled as quickly as possible.
Any COVID-19 related care takes place in designated areas away from other patients and their families.
Emergency Departments are reorganized to be a safe place to treat all emergency patients.
A stringent cleaning policy has been implemented throughout the hospital.
A strictly controlled visitor and masking policy is required for patient safety.
You can rest assured that we have made the necessary preparations to care for you in a safe, controlled and professional way.
We're here, and we're ready to provide the care you need.
Visitor Restrictions
Updated Visitor Restrictions In Effect During COVID-19 Pandemic
Our top priority is always the safety and well-being of our patients, visitors and employees.
As we continue to monitor the developing coronavirus situation, we are revising our visitation policy to protect our community against the spread of respiratory illness, including COVID-19. The following policy is now in place.
All visitors are required to enter through designated areas in the hospital.
All visitors must be at least 18 years of age.
All visitors must be free of any signs of respiratory illness and must not have active COVID-19 or a pending COVID-19 test result.
All visitors must:
Wash their hands or use alcohol sanitizer before entering and after leaving the facility, as well as during the visit
Maintain 6-feet social distancing while in the facility
Wear their own cloth face covering or mask (facility will provide a mask if needed, though masks from home are preferred due to the need to conserve supplies)
For patients who are without suspected or active COVID-19 - Up to two visitors allowed each day*
For patients having outpatient surgery who are without suspected or active COVID-19 – One escort (visitor) allowed*
For patients who are with suspected or active COVID-19 - No visitors are allowed, with the following exceptions**:
Newborn or neonatal patients may have both parents visit
Laboring patients may have up to one visitor, depending on current conditions at the facility
Post-partum patients may have one visitor
Patients with altered mental status who require a family member for support may have one visitor
Minors (< 18 years of age) may have one visitor
Hospice or end-of life patients may have two visitors
 
*Some units or areas of the facility may either restrict all visitors or limit to only one visitor, depending upon the prevalence of Covid-19, quantities of supplies, and space considerations.
**In some circumstances, visitors may be required to wear protective equipment provided by the facility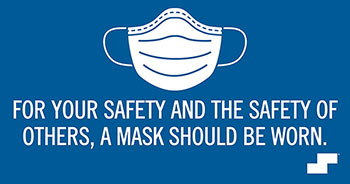 Everyone on Steward properties should have a mask on, including patients and visitors.
This new measure has been put in place for your protection, as well as the protection of patients and hospital staff.
We ask for your understanding and appreciate your cooperation in our commitment to keeping our community safe.
---
A Message from Dr. Joseph Weinstein, Chief Medical Officer for Steward Health Care
3-6-2020
Steward Health Care continues to monitor the national and global situation of coronavirus disease 2019 (COVID-19) and is prepared to support our communities and safely care for any ill patient. 
The Center for Disease Control (CDC) has emphasized that the risk to our communities remains low.  It is important to note that individuals are more likely to be exposed to common cold and/or seasonal flu than COVID-19.
We would like to provide the following information about coronavirus, as we know that outbreaks of new virus infections may cause concern and raise questions.
What is Coronavirus?
There has been an outbreak of respiratory disease caused by a novel coronavirus that was first detected in Wuhan City, Hubei Province, China.  This respiratory illness has now been detected in over 50 locations internationally, including scattered cases in the United States. There have been over 83,000 cases of the illness worldwide.  In the last few days, there has been an increase in the number of cases in South Korea, Japan, Italy, Iran, Cambodia and Thailand.
Coronaviruses are a large family of viruses that are common in many different species of animals, including camels, cattle, cats, and bats. Rarely, animal coronaviruses can infect people and then spread between people such as with Middle Eastern Respiratory Syndrome (MERS), Severe Acute Respiratory Syndrome (SARS) and now with this new virus.
There have been a growing number of patients who have never had exposure to animal markets, indicating that this virus is transmitted by person-to-person spread. Person-to-person spread has been reported outside China, including in the United States and other countries.
How is Coronavirus transmitted?
Current understanding about how the virus that causes COVID-19 spreads is largely based on what is known about similar coronaviruses. The virus is thought to spread mainly from person-to-person.  The disease is transmitted from people who are in close contact with one another (within about 6 feet).  The virus is disseminated through respiratory droplets produced when an infected person coughs or sneezes.  These droplets can land in the mouths or noses of people who are nearby or possibly be inhaled into the lungs.  It may be possible that a person can get COVID-19 by touching a surface or object that has the virus on it and then touching their own mouth, nose, or possibly their eyes, but this is not thought to be the main way the virus spreads.  People are thought to be most contagious when they are most symptomatic (the sickest).
What are the symptoms of Coronavirus?
For confirmed coronavirus disease 2019 cases, reported illnesses have ranged from mild symptoms to severe illness and death. Symptoms can include fever, cough and shortness of breath.  The CDC believes at this time that symptoms of COVID-19 may appear in as few as 2 days or as long as 14 days after exposure. The average incubation period is approximately 5 days.
Risk factors for severe illness are not yet clear, although older patients and those with chronic medical conditions may be at higher risk for severe illness.  Approximately one-third to one-half of reported patients had underlying medical conditions, including diabetes, hypertension, and cardiovascular disease.
What should I do if I think I have Coronavirus?
If you are experiencing a cough, fever, and/or a shortness of breath and have recently traveled outside the United States -- or been in close contact with someone who could have been exposed to coronavirus -- please contact your primary care physician for further instructions.
If you are instructed to go to an Emergency Room, please notify ER staff of your symptoms immediately upon arrival, request and wear a face mask, and avoid close contact with others.
How is Coronavirus treated?
Patients with a mild clinical presentation may not initially require hospitalization. However, clinical signs and symptoms may worsen with progression to lower respiratory tract disease in the second week of illness, therefore all patients should be monitored closely. Possible risk factors for progressing to severe illness may include older age and underlying chronic medical conditions such as lung disease, cancer, heart failure, cerebrovascular disease, renal disease, liver disease, diabetes, immunocompromising conditions, and pregnancy.
No specific treatment for COVID-19 is currently available. Clinical management includes prompt implementation of recommended infection prevention and control measures and supportive management of complications, including advanced organ support, if indicated.
How do you prevent Coronavirus?
There is currently no vaccine to prevent COVID-19. The CDC recommends everyday preventive actions to help prevent the spread of respiratory diseases, including:
Avoid close contact with people who are sick.
Avoid touching your eyes, nose, and mouth.
Stay home when you are sick.
Cover your cough or sneeze with a tissue, then throw the tissue in the trash.
Clean and disinfect frequently touched objects and surfaces using a regular household cleaning spray or wipe.
The CDC does not recommend that people who are well wear a facemask to protect themselves from respiratory diseases, including COVID-19.
Facemasks should be used by people who show symptoms of COVID-19 to help prevent the spread of the disease to others. The use of facemasks is also crucial for health care workers and people who are caring for patients who are ill at home or in a health care facility.
Wash your hands often with soap and water for at least 20 seconds, especially after going to the bathroom; before eating; and after blowing your nose, coughing, or sneezing.
If soap and water are not readily available, use an alcohol-based hand sanitizer with at least 60% alcohol. Always wash hands with soap and water if hands are visibly dirty.
 
Can I still travel?
At this time, the CDC recommends that travelers avoid all nonessential travel to China, Iran, Italy and South Korea.
+++
Steward Health Care is committed to the safety, health and well-being of our patients, staff, and the communities we serve. We will provide additional updates as they become available. 
In the meantime, for more information, please contact your doctor or visit the Center for Disease and Control (CDC) Prevention website on Coronavirus
What to do if you're sick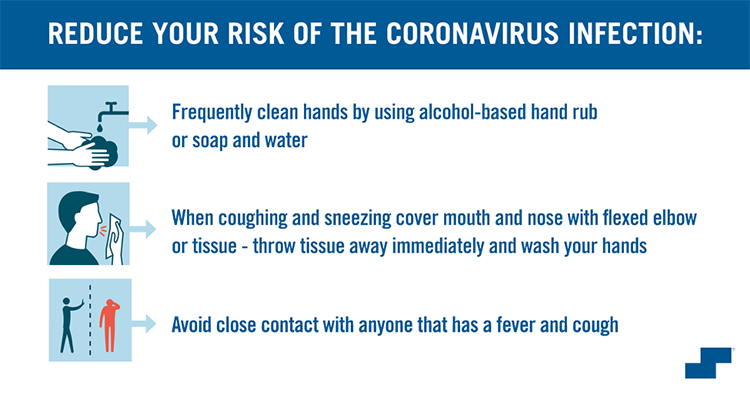 Stay home except to get medical care
Stay home: People who are mildly ill with COVID-19 are able to recover at home. Do not leave, except to get medical care. Do not visit public areas.
Stay in touch with your doctor. Call before you get medical care. Be sure to get care if you feel worse or you think it is an emergency.
Avoid public transportation: Avoid using public transportation, ride-sharing, or taxis.
Social Distancing
As much as possible, you should stay in a specific "sick room" and away from other people in your home. Use a separate bathroom, if available.
Limit contact with pets & animals: You should restrict contact with pets and other animals, just like you would around other people.
Although there have not been reports of pets or other animals becoming sick with COVID-19, it is still recommended that people with the virus limit contact with animals until more information is known.
Call Ahead before visiting your doctor
Call ahead: If you have a medical appointment, call your doctor's office or emergency department, and tell them you have or may have COVID-19. This will help the office protect themselves and other patients.
Monitor your symptoms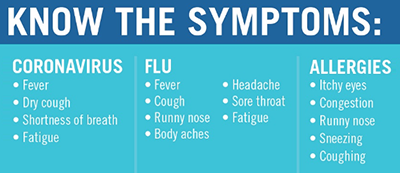 Seek medical attention, but call first: Seek medical care right away if your illness is worsening (for example, if you have difficulty breathing).
Call your doctor before going in: Before going to the doctor's office or emergency room, call ahead and tell them your symptoms. They will tell you what to do.