New Midwives Join Steward Medical Group's Rocky Mountain Women's Health Practice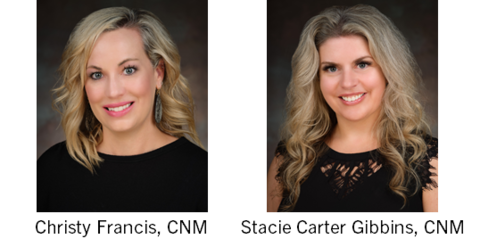 LAYTON, UT – Davis Hospital and Medical Center and Steward Medical Group (SMG) are proud to welcome Stacie Carter, CNM and Christina Francis, CNM to the Steward Medical Group's Rocky Mountain Women's Health Center.
"We are excited to have Stacie and Christina join our center and further our mission to provide a personalized, compassionate and caring health care experience for each of our patients," said Heidi Signore, VP, Steward Medical Group. "Stacie brings 15 years of experience as a midwife and 9 years as labor and delivery nurse to our facility. Christy also joins us with 15 years as a midwife and over 2,000 deliveries. Together, their expertise will be instrumental in our efforts to provide unparalleled care and we welcome them to Rocky Mountain Women's Health." 
Stacie Carter graduated with her masters in Nurse Midwifery from the University of Utah in 2007. Stacie worked as a labor and delivery nurse prior to being a midwife for 9 years. Stacie has done over 2000 vaginal deliveries along with being a first assist on c-sections for her patients as well as other providers. Stacie is passionate in women's health and educating women though out all the stages of life from premarital care, prenatal and postpartum care to menopause.
Christina Francis has been a midwife for 15 years. She graduated with her Masters in Nurse Midwifery from the University of Utah in 2006. Prior to obtaining her CNM she was a labor and delivery nurse for 5 years. Christy has done over 2000 vaginal deliveries as well as hundreds of first assists on c-sections. From a young age Christy knew she wanted to deliver babies and pursue a career in women's health.
About Davis Hospital and Medical Center
Davis Hospital and Medical Center (DHMC), in partnership with physician owners and part of Steward Health Care, is a full service, general acute care hospital currently located in Layton, Utah. DHMC has been providing a wide range of health care services to Davis County residents for more than 45 years with a mission to provide superior care and services, improving the quality of life for the people and communities we serve. Offering a full range of services including, 24-hour emergency care, Level III Trauma Center, certified Primary Stroke Center, Accredited Chest Pain Center, Cancer Center, obstetrics and a Level III NICU, intensive care, general medical and surgical offerings, and a full complement of outpatient diagnostics, DHMC is fully accredited by DNV and certified by Medicare. To learn more, go to www.davishospital.org.
About Steward Health Care System
Nearly a decade ago, Steward Health Care System emerged as a different kind of health care company designed to usher in a new era of wellness. One that provides our patients better, more proactive care at a sustainable cost, our providers unrivaled coordination of care, and our communities greater prosperity and stability.
As the country's largest physician-led, tax paying, integrated health care system, our doctors can be certain that we share their interests and those of their patients. Together we are on a mission to revolutionize the way health care is delivered - creating healthier lives, thriving communities and a better world.