Davis Hospital and Medical Center is nationally recognized for its commitment to providing high-quality stroke care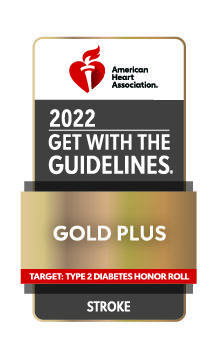 LAYTON, UTAH — Davis Hospital and Medical Center has received the American Heart Association/American Stroke Association's Get with the Guidelines ® - Stroke Gold Plus with Target: Type 2 Diabetes Honor Roll quality achievement award for its commitment to ensuring stroke patients receive the most appropriate treatment according to nationally recognized, research-based guidelines, ultimately leading to more lives saved and reduced disability. Target: Type 2 Diabetes aims to ensure patients with Type 2 diabetes, who might be at higher risk for complications, receive the most up-to-date, evidence-based care when hospitalized due to stroke.
"Davis Hospital is committed to improving patient care by adhering to the latest treatment guidelines," says Angie Merrell, Associate Chief Nursing Officer and Director of Quality Assurance & Patient Safety. "Get With The Guidelines makes it easier for our team to put proven knowledge and guidelines to work on a daily basis, which studies show can help patients recover better. The end goal is to ensure more people in Davis County and the surrounding communities can experience longer, healthier lives."
Stroke is the No. 5 cause of death and a leading cause of disability in the U.S. A stroke occurs when a blood vessel that carries oxygen and nutrients to the brain is either blocked by a clot or bursts. When that happens, part of the brain cannot get the blood and oxygen it needs, so brain cells die. Early stroke detection and treatment are key to improving survival, minimizing disability and accelerating recovery times.
Get With The Guidelines puts the expertise of the American Heart Association and American Stroke Association to work for hospitals nationwide, helping ensure patient care is aligned with the latest research- and evidence-based guidelines. Get With The Guidelines - Stroke is an in-hospital program for improving stroke care by promoting consistent adherence to these guidelines, which can minimize the long-term effects of a stroke and even prevent death.
Each year, program participants qualify for the award by demonstrating how their organization has committed to providing quality care for stroke patients. In addition to following treatment guidelines, Get With The Guidelines participants also educate patients to help them manage their health and recovery at home.
"We are incredibly pleased to recognize Davis Hospital and Medical Center for its continued commitment to caring for patients with stroke," said Steven Messe, M.D., chairperson of the Stroke System of Care Advisory Group. "Participation in Get With The Guidelines is associated with improved patient outcomes, fewer readmissions and lower mortality rates – a win for health care systems but most especially for patients, families and communities." -
                                                                                                                       ###
About Davis Hospital and Medical Center
Davis Hospital and Medical Center (DHMC), in partnership with physician owners and part of Steward Health Care, is a full service, general acute care hospital currently located in Layton, Utah. DHMC has been providing a wide range of health care services to Davis County residents for more than 45 years with a mission to provide superior care and services, improving the quality of life for the people and communities we serve. Offering a full range of services including, 24-hour emergency care, Level III Trauma Center, certified Primary Stroke Center, Accredited Chest Pain Center, Cancer Center, obstetrics and a Level III NICU, intensive care, general medical and surgical offerings, and a full complement of outpatient diagnostics, DHMC is fully accredited by DNV and certified by Medicare. To learn more, go to www.davishospital.org.
About Steward Health Care System
Nearly a decade ago, Steward Health Care System emerged as a different kind of health care company designed to usher in a new era of wellness. One that provides our patients better, more proactive care at a sustainable cost, our providers unrivaled coordination of care, and our communities greater prosperity and stability.
As the country's largest physician-led, tax-paying, integrated health care system, our doctors can be certain that we share their interests and those of their patients. Together we are on a mission to revolutionize the way health care is delivered - creating healthier lives, thriving communities and a better world.
Steward is among the nation's largest and most successful accountable care organizations (ACO), with more than 5,500 providers and 43,000 health care professionals who care for 12.3 million patients a year through a closely integrated network of hospitals, multispecialty medical groups, urgent care centers, skilled nursing facilities and behavioral health centers. Based in Dallas, Steward currently operates 39 hospitals across Arizona, Arkansas, Florida, Louisiana, Massachusetts, Ohio, Pennsylvania, Texas and Utah.
About Get With The Guidelines®
Get With The Guidelines® is the American Heart Association/American Stroke Association's hospital-based quality improvement program that provides hospitals with the latest research-based guidelines. Developed with the goal of saving lives and hastening recovery, Get With The Guidelines has touched the lives of more than 12 million patients since 2001. For more information, visit heart.org.