EMS Stewards of the Community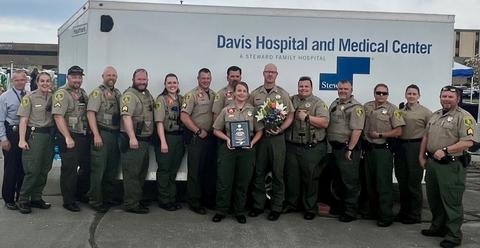 During National EMS Week, we took the opportunity to celebrate all our local EMS heroes. In addition, we honored two Stewards of the Community recipients, one exceptional and dedicated EMS provider and one organization that has some of the very best individuals that this profession has to give.
The EMS Stewards of the Community Awards are designed to recognize providers who not only carry out the noble work of caring for others, but do so with the degree of expertise, professionalism, and compassion that makes them leaders in their field.
We first recognized Troy Jamison. Troy currently works with Syracuse Fire Department, where he has been since 1998. Troy received his Paramedic Certification in April 2013 making him the only full-time firefighter at the Syracuse Department to hold the title. Troy is admired by all those he works with. "Troy genuinely cares about the citizens of Syracuse," states Sharlyn Reinhold. "He is a great example to all who work for Syracuse City, and I am proud that he is on my team."
We also recognized the Davis County Sheriff's Office, all current EMS providers and those that have come before them, for their selfless dedication to our community. For 45 years, the Davis County Sheriff's Office has been providing Paramedic Service to the citizens of the County. As first responders, they have trained extensively to save lives, prevent further injury, reduce pain and suffering, and demonstrate great care and compassion to people in times of crisis. Countless lives have been saved and impacted by the quick response and actions provided by Davis County Sheriff's paramedics.