Emergency Preparedness & Health Fair 9/18/21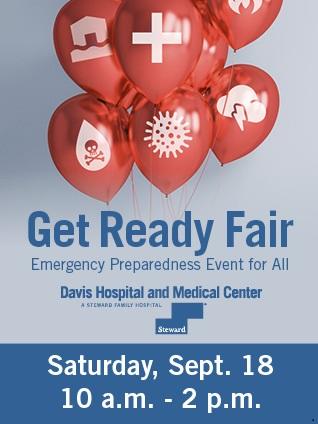 Because of COVID-19, Americans are learning how important it is to be prepared for emergency situations. (Who would have thought that a pandemic would cause so many supply shortages, with toilet paper being the first thing to go?)
Most people know that preparedness brings peace of mind. But knowing you need to be prepared is different from actually taking steps to prepare for emergency situations.
In their Annual Preparedness Survey last year, the Federal Emergency Management Agency reported that "the public has continued building a strong intention to prepare for disasters, yet there remains a critical need to turn it into action."
The good news is that preparing for an emergency is something that everyone can learn how to do. It starts with seeking the right information so you'll know what to do. To help you out, Davis Hospital and Layton City are holding their 6th Annual Get Ready Fair, which is free and open to the public.
Here's a preview of what you can expect — and why you'll want to attend.
PREPAREDNESS BEGINS WITH A PLAN
If preparing for an emergency feels overwhelming to you, it helps to begin with a plan. Consider what's most essential to you and your family. What can you afford to contribute toward your emergency preparedness supply each month? What items do you really need? Attending this fair can help you get a better idea of the types of things you should be thinking about when it comes to 
emergency preparedness.
WHAT ARE YOUR EMERGENCY ESSENTIALS?
When it comes to what's most essential in an emergency, the answer is different for everyone. Your individual health plays a role. For example, do you rely on an oxygen concentrator? If so, do you have a backup power supply? What kind of backup power supply is appropriate? Whatever your medical needs are, you'll want to make sure you have the necessary equipment, batteries, and daily medication on hand. (At least a 30-day supply is best.)
HOW MUCH WATER SHOULD YOU HAVE?
One thing everyone needs is water. Do you have a 3-day supply in your home? Though a 3-day supply is a good start, ready.gov suggests having several days' worth of drinking water on hand in case of an emergency.
If you have questions about how to store it and for how long, make sure you come to the Get Ready Fair to learn the answers. They will also cover topics such as water filtration and how much water each person needs per day. Time to learn the basics!
DO YOU HAVE ENOUGH FOOD?
Of course, you're going to need food as well. Ready.gov recommends having several days' worth of food saved up in case of an emergency. It's important to have food that's easy to prepare, nutritious, and enjoyable to eat. (This is especially true if you have young children.)
You'll also need an alternate method of preparing meals in case you don't have access to power or natural gas.
SHELTER AND OTHER BASIC NEEDS
Next is shelter. Imagine surviving a winter without power or natural gas — could you do it given the supply you have in stock? And then there's your sewer system. If your sewer system was unavailable for a period of time, you'd definitely want to know how to take care of your family's restroom needs.
Even though you have a roof over your head, it's important to consider all of the intricacies of shelter and how you can prepare for any sort of disaster.
BE PREPARED FOR ANYTHING BY ATTENDING THE 6TH ANNUAL GET READY FAIR
Thinking about disasters may not be your favorite pastime. No one likes to imagine a scenario when basic necessities aren't available. Unfortunately, you can't rely on grocery stores to always carry the supplies you need. Government aid isn't always immediate. In an emergency situation, you'll most likely be on your own for at least part of it.
Preparedness is the solution. And you can be prepared for anything that may come your way by visiting this year's Get Ready Fair.
The 6th Annual Get Ready Fair hosted by Davis Hospital and Layton City will be on Saturday, Sept. 18, 2021, from 10 a.m. to 2 p.m. In addition to learning about disaster preparedness, injury prevention, and health promotion, you can also choose from several family-friendly educational opportunities, including:
—  A Critter Clinic for Kids (registration is recommended to reserve your spot)
—  Car seat safety checks conducted by Certified Child Passenger Safety Technicians from Safe Kids Davis County
—  Scheduled presentations on Early Heart Attack Care, Hands-Only CPR, Stop the Bleed, Stroke Awareness, and Breast Cancer Education (registration is recommended to reserve your spot)
—  Tours of emergency vehicles, smokehouse education
trailers, and earthquake education trailers
Free hot dogs, raffle drawings, and giveaways will happen throughout the day, so come and stay as long as you can! To reserve your spot for an activity, register for free at DavisHospital.net.