Davis Hospital Welcomes Surgeons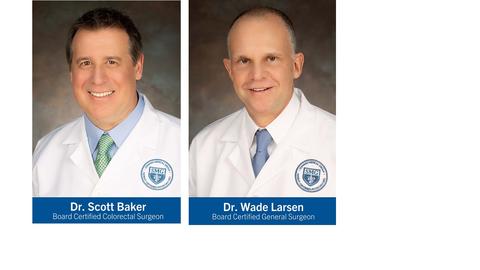 Davis Hospital is proud to welcome surgeons Scott Baker, MD, and Wade Larsen, MD
Scott Baker, MD, FACS, FASCRS, is double board-certified in Surgery and Colon & Rectal Surgery. A fellowship-trained colorectal surgeon, Dr. Baker has more than 20 years of experience in treating patients and has performed thousands of colon surgeries and more than 500 robotic-assisted surgeries. Dr. Baker has specialized training in:
Surgical management of colon and rectal cancer
Inflammatory bowel disease
Anorectal disease
Minimally invasive surgical approaches
Robotic management of surgical disease
 
Wade Larsen, MD is board certified in General Surgery by the American Board of General Surgery. Dr. Larsen enjoys helping his patients understand what to expect from surgery as well as why surgery may be the best treatment option. He is looking forward to providing high-quality elective and acute care general surgery to patients in Davis and Weber Counties. Dr. Larsen has a special interest in:
Hernia repair and abdominal wall reconstruction
Minimally evasive surgery
Surgical treatment of breast disorders
Acute general surgery
Trauma
Dr. Baker and Dr. Larsen are now accepting patients at Steward Specialty Surgery of Utah, 1492 W Antelope Dr, Suite 203 in Layton. Call 801-820-3741 for more information or to schedule an appointment.