Davis Hospital Administers COVID-19 Vaccine to Health Care Personnel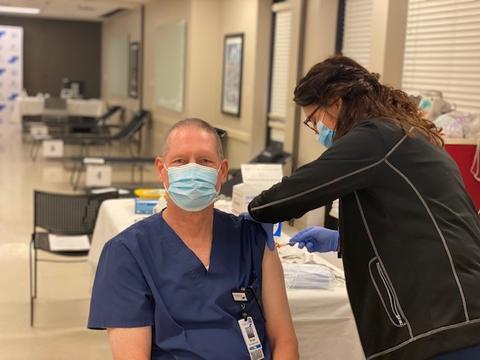 Advanced preparation enables the first injection to be administered within hours of vaccine arrival.
LAYTON, UT - Davis Hospital and Medical Center received the COVID-19 vaccine on December 17, and soon began administering injections to frontline workers directly involved with caring for coronavirus infected patients.
Steward Health Care began its preparations to safely and efficiently administer the COVID-19 vaccine months ago. Their team developed a proprietary application to pre-screen and schedule employees for COVID vaccinations followed by set reminders for the second dose. This will allow for administering vaccines to health care personnel faster, while simultaneously maintaining best practices for social distancing.
Locally, Davis Hospital leaders knew they needed to be ready to go as soon as the vaccine arrived. "We already had ample ultra-cold storage, but we needed to refine processes, train, and practice," says Chris Johnson, Chief Nursing Officer.
Other preparations included the creation of a vaccination team trained in safety protocols specific to the approved vaccine. They also established a dedicated vaccination area complete with medical supplies, required technology, and monitoring stations. "This advanced planning allowed for us to administer the first injection within hours of the initial vaccine shipment reaching our doors," added Chris Johnson.
The first five vaccinated health care team members represented different departments that have direct hands-on patient care and included ICU, ER, and Respiratory Therapy.
"It is important to provide this vaccine to all of our hospital frontline staff including respiratory therapists, phlebotomists, CNA's and many other positions, all of which have direct patient interaction," states Michael Jensen, President, Davis Hospital.
Brian Law, Emergency Department RN, was the first hospital frontline staff member to be vaccinated. "I'm thrilled about being one of the first vaccinated at our hospital. I don't have any worries about receiving it, the sooner the better," said Brian. He added, "My vaccination adds even another layer of protection for the patients I treat." 
Dr. Christine Anderegg was the first ER physician to be vaccinated at the hospital. When asked about the vaccine, she replied, "This will be a good long-term fix for us, but for now we need to remember to continue wearing masks, washing hands, and social distancing. I would recommend to my patients to get the vaccine if they don't have contraindications, allergies to other vaccines, and if they aren't currently sick. I'm excited to get mine."
Respiratory Therapist, Jennifer Leatherow, was also one of the first to receive the vaccine at the hospital and is glad to have it. "I am with COVID positive patients all day in the hospital. I feel very safe and protected in my job and am glad to have the added protection of the vaccine for my patients."
Vaccinations are being administered in a phased approach according to criteria outlined by the Centers for Disease Control and Prevention (CDC) and the Advisory Committee on Immunization Practices (ACIP).