Family Donates Over 2,000 Masks to Davis Hospital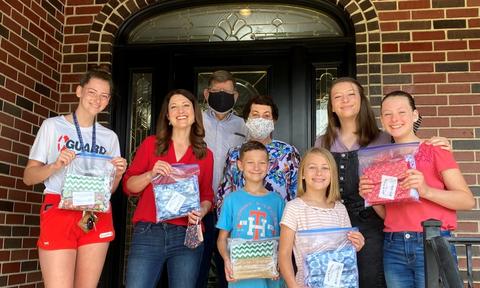 Treu family makes cloth masks for their community, donates to Davis Hospital for distribution
The pandemic has affected people in many ways. Some have responded with a feeling of helplessness, Sarah Treu has responded with action.
When the pandemic started to take hold, Sarah heard a buzz around her circle of friends about making masks and sending them across the country. Sarah happened to speak with the president of Davis Hospital about the need for masks locally. After their conversation, she knew exactly what to do; she was going to support the people in her community.
"I am truly touched by Sarah and her family's readiness to help," states Mike Jensen, Davis Hospital President. "I can't even guess how many hours they have put in to making masks. I'm humbled by the overwhelming commitment they've made to help keep our health care workers and patients safe."
Sarah is naturally a creative person. Her background in designing fabric for clothing, furniture, wallpaper and more, aligned perfectly with her desire to help. She was inspired to make masks to donate using fabric she has purchased, including using some of the fabric that she's designed herself. Her family rallied around to support her. Together, Sarah and her family have made and donated over 2,200 handmade masks to Davis Hospital.
When asked why she continues to do so much, Sarah responded, "Sewing feels like a super-power right now. There is so much need for masks, and I have the ability to do it--so I keep going. My husband, Mark, and I love to help and serve. It's the way we were raised, and the way we try to raise our own kids. It's important to help and give to others." 
Sarah has also inspired her parents and children who have eagerly jumped on board. Ranging in ages from 8 to 17, Sarah's children all help in their own way. Mary and Eliza are the sewists with Sarah. Anne irons and pins, Emma snips the threads, and William delivers them. "But it all starts with my Dad," says Sarah. "We've enlisted him to cut the material and elastic, some of the most tedious parts." Sarah's mom, Maureen, has sewn over 800 masks on her own, and the numbers keep growing.
Davis Hospital staff hand out masks to people who are screened at the hospital entrance. "We've been fortunate to receive an outpouring of support from many people in our community. We couldn't be more appreciative of the donations from the Treu's and countless others." says Angie Merrell, Director of Quality Management. "We are grateful for their kindness and assistance in helping us to protect our community."