Open, Safe and Ready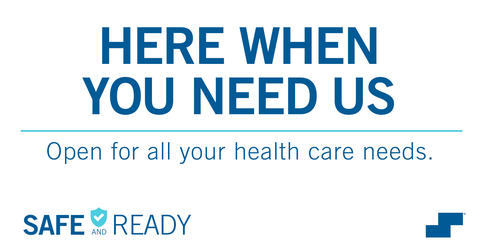 As our community comes together to embrace the challenge of recovery, we know there are many questions of how to safely navigate the daily updates and changes while still staying safe. Rest assured, we are still here for you and continue to deliver the health care you and your family need.
As COVID-19 continues to spread across the United States, Davis Hospital and Medical Center  is fully prepared to care for our patients and our community. We are here, as always, to serve all patients. Our commitment to providing care for the ongoing health and well-being of our community is vital, particularly in times like these.
Our clinic partners are open, certain elective procedures are ready to be scheduled, and our emergency rooms continue to be a safe place to treat ALL emergencies. From serious conditions to aches and pains, your health care needs didn't stop and neither did we.
Although coronavirus presented us with new challenges, our hospital is prepared to serve all of the health care needs of our community. What does that mean for you?
It means that we've expanded our hours and are working quickly to reschedule previously cancelled procedures.
It means we're intensely focused on new cleaning and personal protection procedures to keep you safe.
It means patients and visitors are pre-screened before entering the facility.
It means everyone in the hospital, including staff and visitors, wear a mask.
It means visitor restrictions are in place and waiting rooms are arranged to comply with the recommended 6-foot social distancing guidelines.
It means that we've implemented new practices to ensure that any COVID-19 related care is provided in an isolated area away from other patients and their families.
Now is the time to get you and your family the advanced medical care that you've postponed during the pandemic. We're here and we're ready to provide the care you need. You can feel confident that we have made the necessary preparations to care for you in a safe, controlled and professional way.
Visit our website to stay updated with the latest information at davishospital.org and follow us on Facebook and Twitter.
Thank you for continuing to trust Davis Hospital for your health care needs.