Recovered Stroke Patient Shares Story of Event that Changed her Life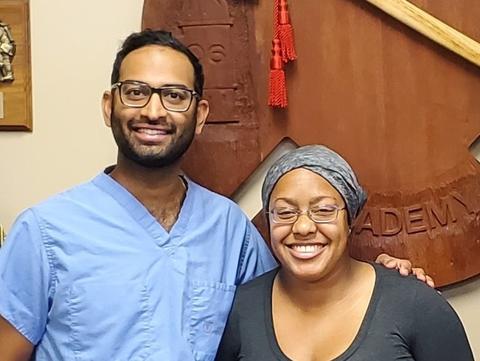 Davis Hospital's use of artificial intelligence and collaboration with U of U Hospital helps save police officer's life
The morning of August 29th was anything but typical for 33-year old Enya of Layton, Utah. Enya, an Ogden City Police Officer, and her husband, an active duty Air Force service member, woke up at their usual time to start their day. From that moment, everything went awry. 
Enya experienced the most extreme headache she had ever felt. The overwhelming pain sent her to the floor and she began shaking. "Nothing was right. I had to get to the restroom because I thought I was going to be sick, but I couldn't see. I couldn't get up. My husband said I wasn't making any sense at all," said Enya.
Fortunately, her husband reacted quickly. Noticing her face was drooping on one side, he quickly dialed 911. That was the first of many actions that saved Enya's life.
The Layton Fire Department arrived on site in less than five minutes. Their quick response and continuous communication with the emergency team en route to Davis Hospital and Medical Center was another critical action in the fight to save her.
Timing is everything when it comes to a stroke, especially the type Enya was experiencing. Upon Enya's arrival to the Davis Hospital emergency department, Dr. Ramesh Grandhi was immediately contacted. A neurosurgeon with the University of Utah Health, Dr. Grandhi knew that utilizing new technology recently added to the Telestroke Program partnership between Davis Hospital and the University of Utah Hospital would be vital in treating Enya's symptoms.
"The use of artificial intelligence (AI) in treating strokes is revolutionary," said Dr. Grandhi. In Enya's case, the medical team deployed the Viz.ai technology which indicated a large vessel occlusion stroke. "We engaged in a real time team collaboration through a mobile interface and had her into the Cath Lab soon after arrival in the Davis Hospital ER," said Grandhi, "The AI shaved valuable minutes off the time from onset to treatment. The type of stroke she had can be very debilitating and often leads to death without immediate intervention."
A telestroke encounter is similar to an in-person assessment. The telemedicine room has a computer with a camera that connects to the neurologist's computer, allowing the patient and Davis Hospital staff to see the U of U neurologist on the screen. The two clinical teams work collaboratively enhancing patient-centered care.
The Davis Hospital Stroke Team and the University of Utah Health Neurology Department have partnered together for seven years to treat stroke patients quickly. "The telestroke program is telemedicine at its best," states Dena Eckardt, Director of Emergency Services. "Through coordination (with U of U Health), we have immediate access to highly trained neurologists that are able to see the patient and communicate with our team in real time to treat stroke patients." 
Enya's recovery is impressive. She returned to work at the police station just one week after her stroke. "I'm lucky," states Enya. "I nearly died that day. I thank God, my husband, the first responders and the doctors who saved my life."
Enya and her husband are adjusting to life after her stroke. She says she feels almost the way she did before. She's back running and working out, something she's done for 20 years. "I've come to appreciate the little things and take pride in the small victories I make each day in my recovery," said Enya, "and I now realize my husband isn't only my best friend, he's my hero."