Free Hands-Only CPR Training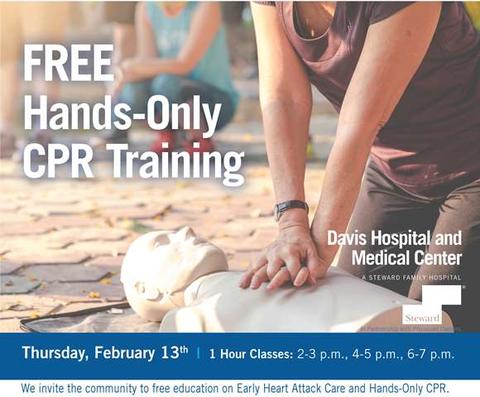 We invite the community to free education on Early Heart
Attack Care and Hands-Only CPR. Early recognition
and CPR are crucial for survival from cardiac arrest
and anyone is capable of learning how to help.
Go to davishospital.org/events and classes
to register for this FREE event or call
801-807-7621 for more information.
Thursday, February 13th | 1 Hour Classes: 2-3 p.m., 4-5 p.m., 6-7 p.m.
Davis Hospital Education Center
1580 W. Antelope Drive, Suite #100D & E, Layton
(Building attached to the east side of the hospital)
Education provided in partnership
with Layton Fire, North Davis
Fire, Davis County Sheriff's
Office, and Kaysville Fire
https://www.eventbrite.com/e/early-heart-attack-care-and-hands-only-cpr-class-for-the-community-tickets-88725802263