Free Health Care Seminar: Tired of Being Tired?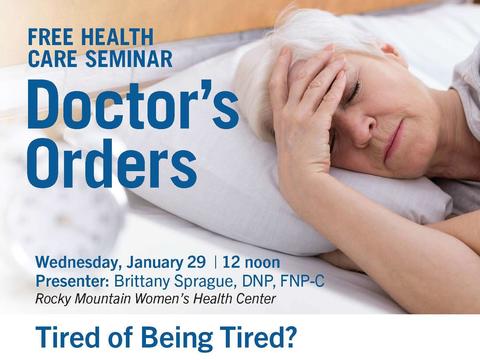 Tired of Being Tired?
Life shouldn't be exhausting, but too often it is.
Fatigue is a common symptom of several conditions and serious diseases, but may be caused by simple lifestyle factors. Join us as Brittany discusses the many possible causes for feeling chronically tired and the strategies and treatment to help you fight fatigue.
Wednesday, January 29 | 12 noon
Davis Hospital Education Classrooms 1-3
1600 W. Antelope Drive, Layton, UT 84041
Presenter: Brittany Sprague, DNP, FNP-C
Rocky Mountain Women's Health Center
A light lunch will be served.
RSVP today to reserve your seat either by phone or online:
866-431-WELL (9355) 
https://www.eventbrite.com/e/tired-of-being-tired-free-health-care-seminar-tickets-90917483641
davishospital.org
Doctor's Orders 1/29/20 Printable Flyer