Davis Hospital to Host "Get Ready Fair" Saturday, Sept. 21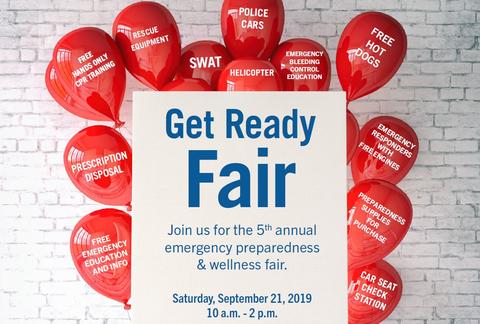 Davis Hospital and Layton City Fire will host the fifth annual emergency preparedness and wellness event on Saturday, Sept. 21st, 10 a.m. – 2 p.m. in Layton, UT.
LAYTON, UTAH – Davis Hospital and Medical Center is partnering with Layton City Fire emergency responders to host the Get Ready Fair on Saturday, September 21, from 10:00 a.m. to 2:00 p.m. on the hospital campus in Layton. With more than 40 vendors selling emergency preparedness services and supplies, including representatives from local fire, police, Sheriff, SWAT, and AirMed, the Get Ready Fair has grown to become one the area's most popular public events.
"We take a comprehensive approach to safety and preparedness with the Get Ready Fair," says Mike Jensen, President of Davis Hospital and Medical Center. "Our goal is a disaster-focused and wellness event for our community to help people prevent, prepare, and plan for emergencies while having a fun family day packed with activities for all ages."
September's Get Ready Fair will offer something for everyone including emergency education and information, preparedness supplies for immediate purchase, a car seat check station, Boy Scout emergency preparedness badge activities, health information from many of the hospital's award-winning departments, family friendly activities, children's Critter Clinic offering a FREE stuffed animal and FREE hot dogs for everyone. Also on location: emergency responders with fire engines, helicopter, police cars, SWAT, rescue equipment and trailers simulating house fires and earthquakes to help attendees learn how to respond in the event of a natural disaster.
"Everything from physical and mental health to natural disaster preparedness and end-of-life planning will be represented," says Dena Eckhardt, Director of Emergency Services at Davis Hospital and Medical Center. "We look forward to partnering with Layton and engaging with our community as we come together to plan for better futures."
https://www.eventbrite.com/e/davis-hospital-preparedness-fair-tickets-62216491200