Davis Hospital and Medical Center Earns Stroke Gold Plus with Honor Roll Elite Recognition
June 1 2019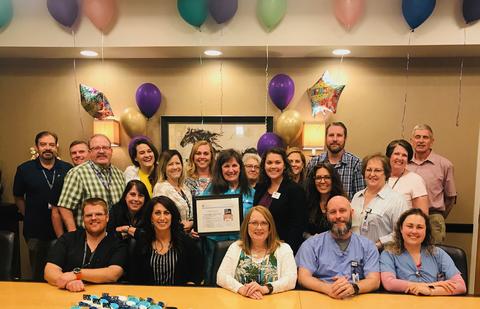 LAYTON, UTAH – In recognition of adherence to the highest scientific standards as set forth by the American Heart Association's (AHA) Get With The Guidelines® quality initiative, Davis Hospital and Medical Center has received the Stroke Gold Plus with Honor Roll Elite achievement award. This award recognizes the hospital's commitment to ensuring stroke patients receive the most appropriate treatment according to nationally recognized, research-based guidelines.
Research shows that participation in these guidelines is associated with better patient outcomes. "We are dedicated to improving the quality of care for our stroke patients by implementing the American Heart Association's Get With The Guidelines Stroke initiative," said Mike Jensen, President, Davis Hospital and Medical Center. "The tools and resources provided help us track and measure our success in meeting evidenced-based clinical guidelines developed to improve patient outcomes."
Davis Hospital and Medical Center earned the award by meeting specific quality achievement measures for the diagnosis and treatment of stroke patients at a set level for a designated period. These measures include evaluation of the proper use of medications and other stroke treatments aligned with the most up-to-date, evidence-based guidelines.
The goal of these guidelines is to expedite recovery and reduce death and disability for stroke patients. Before discharge, patients should also receive education on managing their health, schedule a follow-up visit, and make preparations for necessary care transitions. In order to achieve Gold level, a hospital must meet 85% or greater compliance on seven out of seven achievement measures, as determined by the AHA, for a period of more than two years.
In order to earn the Plus distinction, a hospital must demonstrate 75% compliance rate (or greater) in five out of eight quality measures. Davis Hospital and Medical Center exceeded this standard, achieving compliance in eight out of eight measures.
In order to be recognized as Target Stroke Elite, a facility must show 75% compliance in achieving door-to-needle times below 60 minutes. Davis Hospital and Medical Center had a 91.7% compliance rate in this metric.
Jessica Rosing, RN, BSN, MPH, who presented the award on behalf of the American Heart Association on May 30, remarked, "This recognition acknowledges that Davis Hospital's patients received the right care at the right time. Davis Hospital will be recognized in U.S. News & World Report's Best Hospitals ranking."
About Steward Health Care
Steward Health Care is the nation's largest private, tax paying physician-led health care network in the United States. Headquartered in Dallas, Texas, Steward operates 37 hospitals in the United States and the country of Malta that regularly receive top awards for quality and safety. The company employs approximately 42,000 health care professionals. The Steward network includes multiple urgent care centers and skilled nursing facilities, substantial behavioral health services, over 7,900 beds under management, and approximately 2.2 million full risk covered lives through the company's managed care and health insurance services.
The Steward Health Care Network includes 5,000 physicians across 800 communities who help to provide more than 12 million patient encounters per year. Steward Medical Group, the company's employed physician group, provides more than six million patient encounters per year. The Steward Hospital Group operates hospitals in Malta and nine states across the U.S., including Arizona, Arkansas, Florida, Louisiana, Massachusetts, Ohio, Pennsylvania, Texas, and Utah.
In Utah, Steward Health Care operates five hospitals, Davis Hospital and Medical Center, Jordan Valley Medical Center, Jordan Valley Medical Center - West Valley Campus, Mountain Point Medical Center and Salt Lake Regional Medical Center. The Utah Steward network also includes the Davis Hospital Weber Campus Emergency Department, and the Steward Urgent & Primary Care centers in Taylorsville and Woods Cross. Steward Medical Group Utah employs primary and specialty care physicians and surgeons with locations all along the Wasatch Front. The managed care and health insurance services include Steward Health Care Network and Steward Health Choice Utah.  Steward Health Care is the exclusive health care partner of REAL Salt Lake soccer clubs and Utah Grizzlies hockey. 
                                                                                                                                     ###