'Give where you live': Clearfield High School students set up new community food pantry
January 28 2019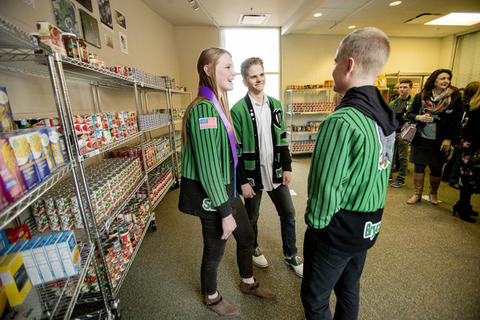 CLEARFIELD — As Clearfield High School prepared to open the doors to its new food pantry Wednesday, organizers emphasized that hunger isn't just a problem in far-flung parts of the world, it can happen right next door.
Jodi Lund, director of Davis County Education Foundation, emphasized that point during a ribbon-cutting ceremony for the Clearfield Cares Falcon Food Pantry, celebrating the effort ahead of its formal opening next month.
"It's so important to give where you live," she said.
The school raised $65,000 to open the community food pantry as part of its annual service project, Falcons are Fabulous. The funds will be used to sustain the pantry long term.
"It brings to light that hunger is an issue and this feels very good to know that we're doing something to fight it and help our community," said Christina Gillespie, student service officer.
The pantry partnered with Bountiful Food Pantry and is also part of the foundation's "No Hunger Zone," aimed at addressing food insecurity in Davis County.
"These students are our leaders for tomorrow and they led by example," Lund said. "Nothing makes me happier than to be part of work that serves an entire community."
The students raised the money through donors, community events and different in-house fundraisers like the popular "Save or Shave" event, which brought in $20,000 but cost one student his famous long hair.
Bryce Spafford, student body president, said he wouldn't shave his head for anything less than $20,000 — something he thought wasn't possible.
"I didn't think we would ever be able to reach that," he said. "I was just shocked the students were able to raise the money that fast."
However, he said he doesn't regret it and is looking forward to seeing the difference the pantry will make in the community.
"I"m excited to see it up and running," Spafford said. "We see the check and we see the money but it's not going to make a difference until we get it in action."
Davis Hospital and Medical Center donated $10,000 to the project.
"Helping to alleviate the insecurity of not having enough to eat is fundamental to being a good community partner," said Mike Jenson, president of the hospital in a press release. "We couldn't be more proud of the work that is being done to help the kids in need as they build the future."
Gillespie said the project wouldn't be possible without the community support.
"We're grateful to everybody who donated time, materials and money," she said. "It makes a difference — every donation counts."
The food pantry will be open 3 p.m. to 6 p.m. on Thursdays, starting Feb. 7.
By Lauren Bennett, KSL | Posted - Jan 24th, 2019 @ 7:17am